To all apprentices,
We have now added to our apprentice discount schemes and have now included discounts for travel on Stagecoach buses in Teesside.  Also, remember to still purchase your NUS apprentice extra card for discounts at McDonalds, Amazon, Domino's, Odeon plus MANY MORE!
Do you live/work in Teesside?  If so, there is now an option to get discount on stagecoach buses!!
Now as you will all be aware; learning maths is an important part of your apprenticeship programme; that is why those who use a stagecoach bus will work out this one is a no brainer!
If you use a Stagecoach bus in Teesside to get to and from home/work/your local training centre, you will probably be familiar with their weekly/monthly/quarterly mega rider tickets which are available
Those studying an apprenticeship can now get a Stagecoach Uni Rider tickets which offer discounts for students.  Let's see how you can claim yours today
Register for an NUS Apprentice Extra card at - http://www.apprenticeextra.co.uk/ (£11 + £1 postage) 

 - you need this for proof of ID that you are an apprentice when you get on the bus

Log onto the stagecoach website and buy your unirider ticket - https://www.stagecoachbus.com/regionaltickets/north-east/teesside/unirider (starting from £72)
Look at the following table which shows the difference in price for the current term:
| | | |
| --- | --- | --- |
| Ticket Length | Mega Rider | Uni Rider |
|  Weekly | £11.90  | N/A  |
|  4 week | £45.65  | N/A  |
| 13 weeks or for a term | £145.00  | £72  |
|  Annual | £547.00  | N/A  |
So, if you had a uni rider ticket bought for this term instead of a mega rider then how much do you save?  Let's look at the maths!
A Mega Rider 13 week ticket is currently £145
A Uni Rider ticket for this term currently costs £72.  Add that onto the cost of an NUS Apprentice Extra card (£11 + £1 postage) and what do you get?
Yep you have guessed it, that is a big termly saving of £61!
Want to buy a uni rider for next term?  You still save money on tickets for the term starting in July 2016 too
Travel via an Arriva bus to work/training centre instead?  We have discounts for them too:
https://www.arrivabus.co.uk/etc/north-east/itecne/
Travel via a Go North East bus to work/training centre instead?  We have discounts for them too:
http://www.simplygo.com/apprenticeship-schemes/
Want to see what discounts an NUS Apprentice Extra card can give you as an apprentice?
Visit: http://www.nus.org.uk/en/nus-extra/ and sign up for an NUS Apprentice Extra card  for just (£11 + £1 postage) NOW!!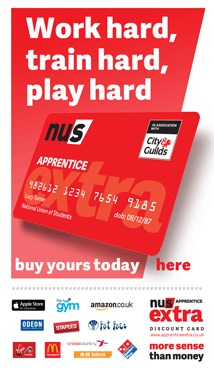 Many thanks,
Moodle Administration and learning technologies team
(Edited by Mark Bolton - original submission Friday, 17 June 2016, 1:45 PM)
(Edited by Mark Bolton - original submission Friday, 17 June 2016, 1:47 PM)
(Edited by Mark Bolton - original submission Friday, 17 June 2016, 1:50 PM)
(Edited by Mark Bolton - original submission Friday, 17 June 2016, 1:51 PM)
(Edited by Mark Bolton - original submission Friday, 17 June 2016, 1:51 PM)
(Edited by Mark Bolton - original submission Friday, 17 June 2016, 1:53 PM)
(Edited by Mark Bolton - original submission Friday, 17 June 2016, 1:55 PM)
(Edited by Mark Bolton - original submission Friday, 17 June 2016, 1:57 PM)
(Edited by Mark Bolton - original submission Friday, 17 June 2016, 1:58 PM)
(Edited by Mark Bolton - original submission Friday, 17 June 2016, 2:34 PM)
(Edited by Mark Bolton - original submission Monday, 20 June 2016, 4:50 PM)